MakupArtist - Are you looking for Fetish Masks, Female Masks, Latex Breasts, Unique Costuming in Rubber or Halloween Masks? You have come to the right place!

MakupArtist Manufactures the finest Foam Latex Halloween Masks, Female Masks, Rubber Costumes, latex clothing and Latex Accessories in the world. Maybe you are thinking of something unique for a transformation, dressing up for a Halloween party, or maybe you are making an independent film. MakupArtist is your one stop shop for all your costuming and general masking needs. Our products are all designed using film Special FX Technologies. There is not another Manufacture of its kind in the world.

Our products are not like any others in the world. Here you will find unique designs using the most unique materials in in existence. This web site has been a long time in the works and we hope it enhances your shopping experience. Please feel free to browse around and drop us a note if you have any questions or feedback. We will be adding more information pages and products so check often.

MakupArtist now has a new Video section with our first video the I-cup Shake showing the natural movement of our I-cup Breast Torso Please just click on the Video link to start viewing and downloading there are new videos all the time.
MakupArtist's new line of Carnival Masks. These are the only foam latex Masks in the world. These masks are perfect for parties, Carnival and Mardi Gras or Venetian Masks, or any festive occasion. Unique in the fact you can fold them and put them in your pocket. Please take a few moment to look over this unique and interesting new product!

MakupArtist makes Robotic skin? Yes you hear right we now are producing a skin for Robots. This Robotic Skin is a unique combination of our Foam Latex embossed with silicone. This principle allows us to attach all kinds of interesting things to a Robotic Skin. You will find our new Robot Skin just one click away.
MakupArtist News
The Holidays are upon us and time for our Cyber Monday sale! look for specials throughout the store

As most of you know MakupArtist is a company that prides itself in the custom options we provide to our customers. We have a good size catalog for that reason. We want to help you to select the proper fitting Female Mask for you. For that reason we now publish the measurements from our entire line of Female masks. You will find it in on our Female Mask Models page HERE.

We have a new pregnant belly in our catalog. This is a soft foam latex big belly with a soft foam core. You can get our Big Dick and Big Belly Here.

Be sure to join us here and also on Twitter and Face-book for the latest info about MakupArtist

This Months featured Video!
Foam Latex Fetish Masks
Our Unique brand of fetish masks give you light weight comfort and shine. Almost all Fetish Masks on the market are made from tough hard rubber where our masks are soft and playable and comfortable to wear for hours. All of our masks are a good balanced mix of creativity, artistry and utility.
Female Latex Breast Torso Breast Enhancement!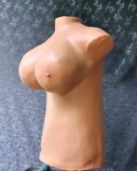 Be sure to check our our complete line of Breast Enhancement Products.
New MakupArtist Female Latex Breast Bra Breast Enhancement!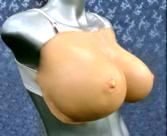 We have our foam latex Breast Bra Fake boobs in foam filled and Silicon filled we also have our foam filled Giant Latex Breasts we call the Opera Singer
MakupArtist Mastasia style Giant Latex Breasts!
Warning Massive Milking  mammeries! These Mastasia Style Latex breasts are the largest breasts made in the world. Each Mastasia style breast measure almost a meter across. This are the largest foam latex breast made. They come in both custom colors and three standard colors. So if you wish to play in the Mastiasia world then the Makupartist giant breasts are you ticket.
Professional Makeup Artist!

Have you ever thought how great it would be to have your own Special FX Department full of Professional Makeup Artists. Or maybe you have thought about being a Makeup Artist yourself.. In our ever changing world of computers and the Internet it is no longer necessary to go to Hollywood to find technologies in special effects.

And if you are a Professional Makeup Artist. No kit foam latex here but the top foaming pros in the world working with the top foam latex formula in world.. Send us any form and we will foam it for you, let our experienced staff get you that Academy Award!
New Metallic Foam Latex Halloween Masks!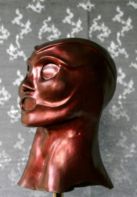 MakupArtist Breaks the Metallic Barrier with our new Metallic finished Foam Latex Halloween Masks. The more light you have the shiner it gets. Deep rich metallic finishes permanent and elastic.
There is not a single manufacture of Latex masks in the world that is listening to you better or willing to put the time in to produce the products of you dreams. The products include Female Latex masks, Female Masks, Special production Female Mask, Latex Breasts and Breast form Products, Mardi Gras Masks, Professional Makeup Artist Products and Rubber Specialty products, Rubber Adhesives and Latex Putty and don't forget that Halloween Mask of your dreams. Pig masks and Pig Fetish masks are always the most popular.